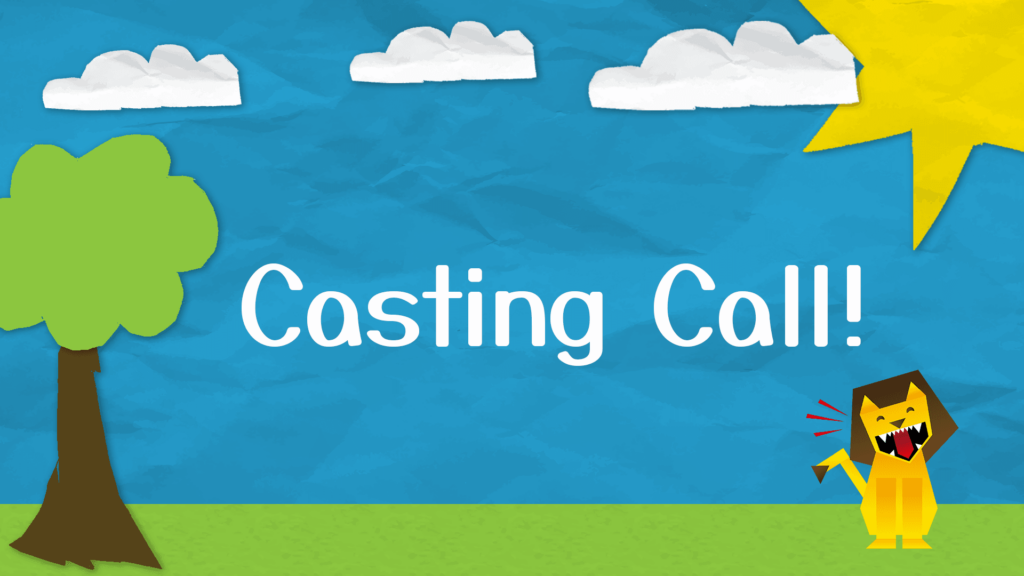 Our Engligh/Language Arts focused TV show, Read, Write, ROAR! is seeking a Kindergarten Teacher and a 3rd Grade Teacher to join us for Marking Period 3.
The production phase will begin in mid-November through January 2022 with episodes airing from January through March 2022. All production work would be outside of your regular school day at $65/hour. The project requires a minimum of 3.5 hours per week. Onboarding and logistics would be covered at the onset.
If you are available during this time and have interest in this teaching opportunity, the following are next steps:
All interested teachers are asked to submit a five-minute instructional video using a portion of the recommended book for your grade level as a read-aloud (below). Please ensure this instructional lesson video is engaging and interactive to the broader participating audience and the content objective and alignment to the K-3 Literacy Essentials is clear. You may decide what objective you are going to focus on. We are looking at how you engage your students on a digital platform.
Read Aloud books we recommend are listed. However, feel free to pull from one of your favorites for purposes of this video submission. Also, when you introduce yourself at the beginning of the video, please indicate your preference of Kindergarten or 3rd Grade.

Kindergarten – Everywhere, Wonder (Matthew Swanson)
Third Grade – Charlotte's Web (E. B. White) — a couple chapters
Please upload your 5 minute video/lesson to our Submissions Dropbox by October 1, 2021 and send a confirmation of upload email to Kyle Vernier at Detroit Public TV: kvernier@dptv.org.
All applicants will be informed of the selection process by October 15, 2021.
Michigan Learning Channel
K-3 ELA Series – Read, Write, ROAR!
Teacher Job Description
The Michigan Learning Channel (MLC) is partnering with the Michigan Association of Intermediate School Administrators (MAISA) to produce English Language Arts video instruction for grades PreK-3. We are seeking two (2) teachers to teach Kindergarten and third grade for a commitment of November 2021 to January 2022, with the possibility of extending into the spring.
Duties
Work with a team of two co-teachers and one or more instructional coaches to plan and implement video lessons
Teach and record two (2) half-hour lessons every other week
Demonstrate the high impact teaching practices outlined in the Literacy Essentials
Participate in video interviews to promote the series
Qualifications
3+ years of classroom teaching experience
Experience with implementation of the MAISA Literacy Essentials
Ability to form a productive partnership with an instructional coach and co-teacher
Proven ability to present energetic and engaging lessons in a digital format
Ability to create visually engaging lessons using a variety of instructional tools
Comfort working with video, audio, and digital media equipment (MLC will provide equipment and coach you through setup)
Production Plan & Time Commitment
Filming will take place remotely, so teachers will be expected to provide a suitable location for filming—either your home or a classroom or other space to which you have regular access. MLC can assist teachers with providing props or background elements to complete your "set."
Check-in meetings (bi-weekly for up to 1 hour)
Meet with your co-teacher and the instructional coaching team for your grade to develop lessons that address the standards and goals outlined by the curriculum team
Technical and performance coaching (initial setup call—1-2 hours)
MLC will supply a "filming kit" that includes a camera, microphone, and lighting or work with you to film on a smartphone device
Prior to the first day of filming, Teachers will meet with a producer one or more times to arrange and test video setup, including adjusting set, lighting, and audio and testing filming capabilities
Teachers will be required to attend the Media Training Workshop provided by MLC
Plan, Rehearse and Record (week before filming—2-4 hours, every other week)
Meet with your literacy coach to plan, prepare, and review lesson implementation and delivery through an electronic venue
Rehearse lessons, time segments, and final recording to meet production deadlines
Prepare any props or materials needed for your lesson, following MLC guidelines around copyright and internal consistency
Lesson filming (filming week – 2 hours, every other week)
Film two lessons with the support of the MLC Producer who will be available remotely via Zoom
Promotional Activities (occasional – 2-4 hours spread over the course of the series)
Participate in interviews and assist with filming program promotions